IMI headquarters, Florida
Design case study: IMI

Where bright, modern, and spacious design come together to promote employee wellbeing – and, to showcase the company DNA.
IMI – one of the world's leading independent bulk raw material trading companies – first approached the Fresh USA team after being impressed by the design work done to give pharmaceutical company, E5 Pharma an updated and exciting new office space in Florida.
Fresh USA was tasked with an intriguing job, to design the company's new global headquarters. Our brief contained the following design criteria:
Bright, spacious, and modern
Employee focused
Preservation of the firms DNA
"Whenever we take on a proposal at Fresh, we start by uncovering the identity of the client and what they are looking to achieve through the project, only then can we focus on translating these messages to provide bespoke designs which cater to the unique needs of their business. Bearing in mind the reputation of exceptional service held by our client, we were aware that this design needed to be not only high-end and allow functionality for the business, but also tell the story of the identity of the company" – Fresh lead designer of the project Tiera Lindsey.
Finding a solution
Our first task was to assist our client in finding a building – and not just any building. One which would reflect the success of the company and one which employees would feel a sense of pride in coming to work at each day. The modern, light and spacious design elements were key in discussions from early on and were chosen to inspire and motivate employees.
We were invited by our client to accompany them on their search in the vibrant yet slow-paced South Florida area of Delray. Our role was to assess, offer pros and cons to fit their office space wants and needs, and provide feasibility studies on each location.
Following our comprehensive feedback, a few options were shortlisted, before we were able to select the best candidate for the job – a newly built, high-spec building in a prime boulevard location.
Fresh USA settled on the best solution for IMI's headquarters: a 21,000 sq. ft office space. Now, Fresh had to design this blank canvas to fit a lounge and bar area, 3 conference rooms, gym, massage rooms, 3,000 sq. ft terrace and event space with putting green, ideal for employee socials.
Design elements
Lots of light was integral to the design, and the large windows in the building provide plenty of natural light to the office. We also evaluated the darkest areas in the building and here, designed a gym and bathrooms for the employees, leaving the brighter zones as office spaces.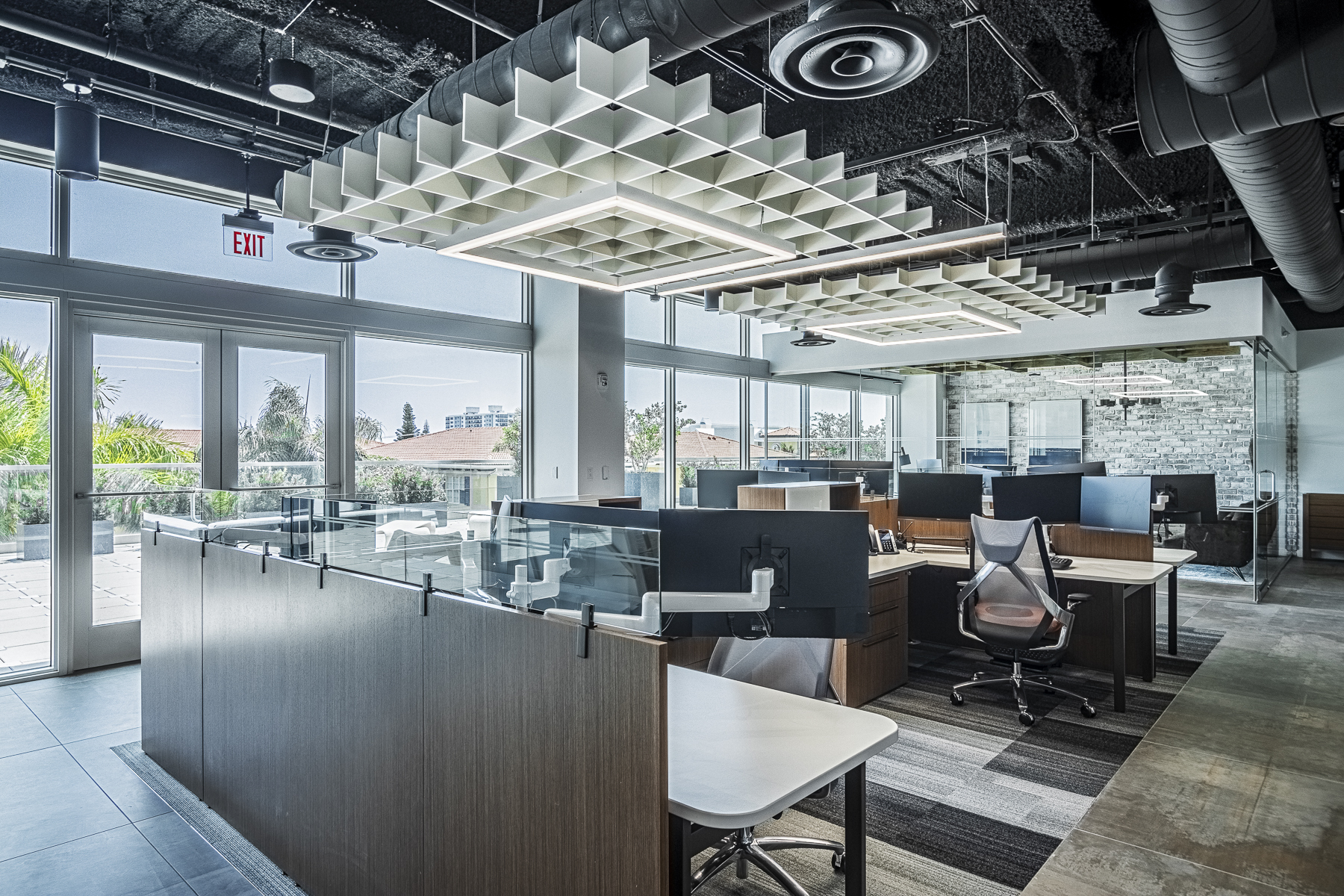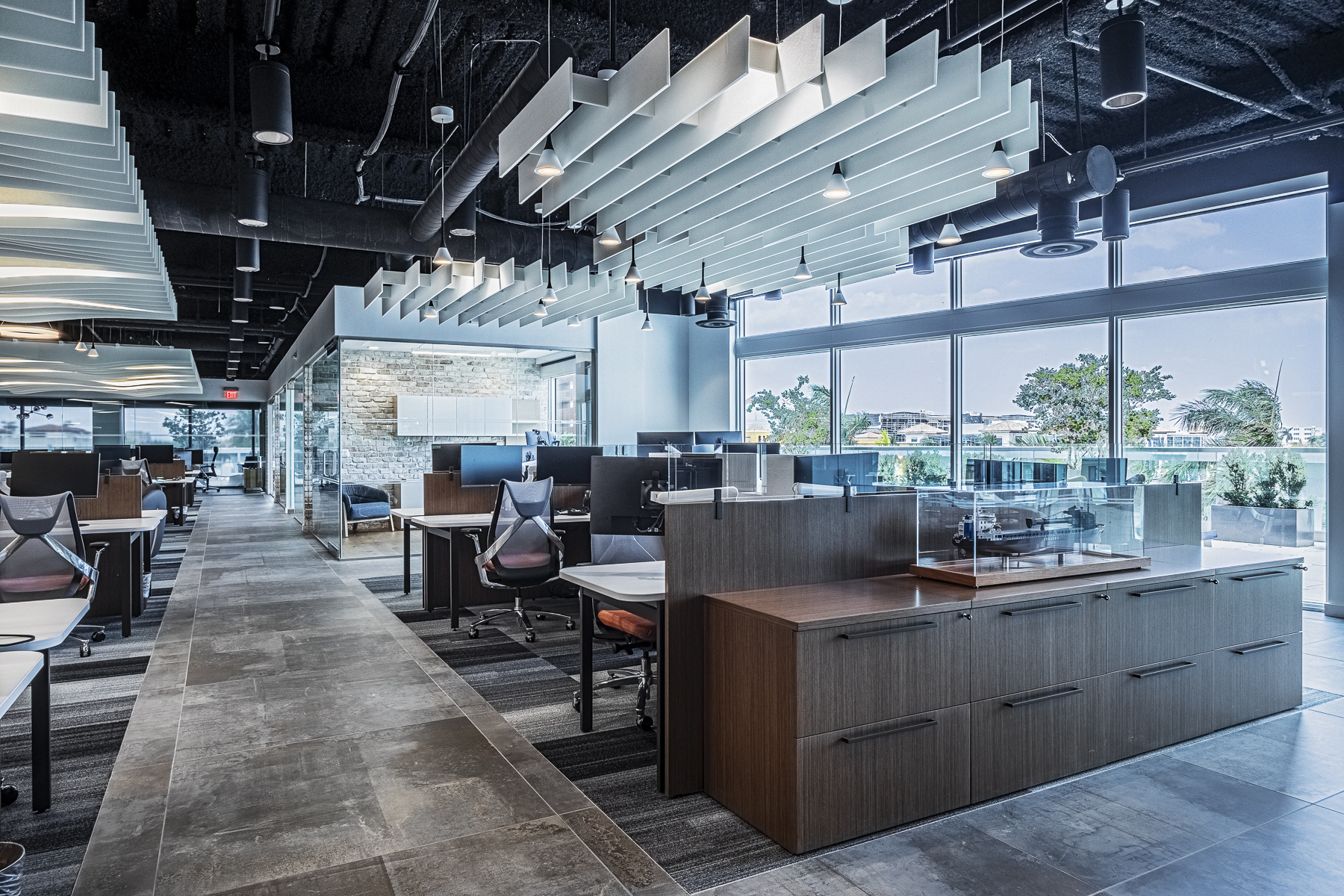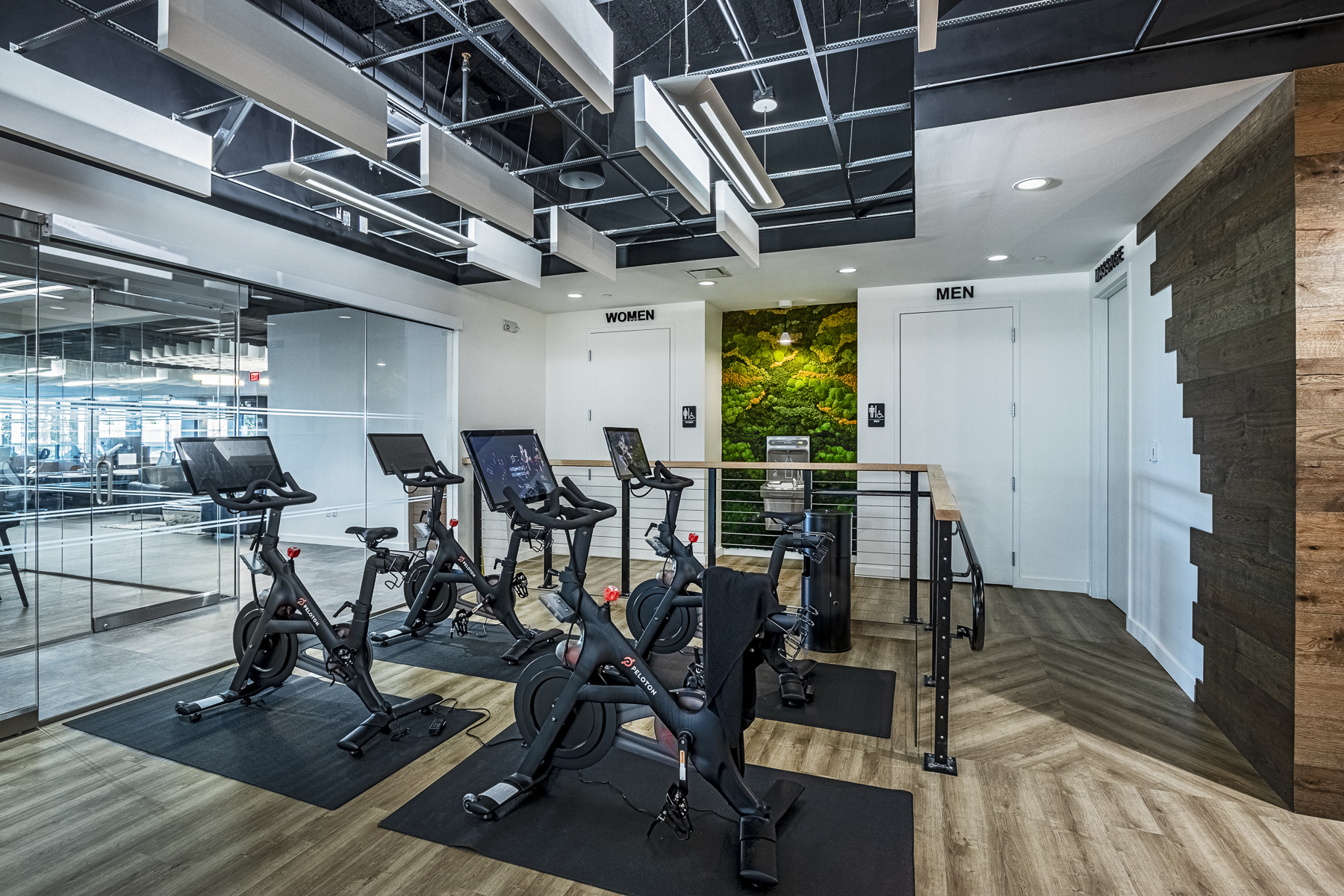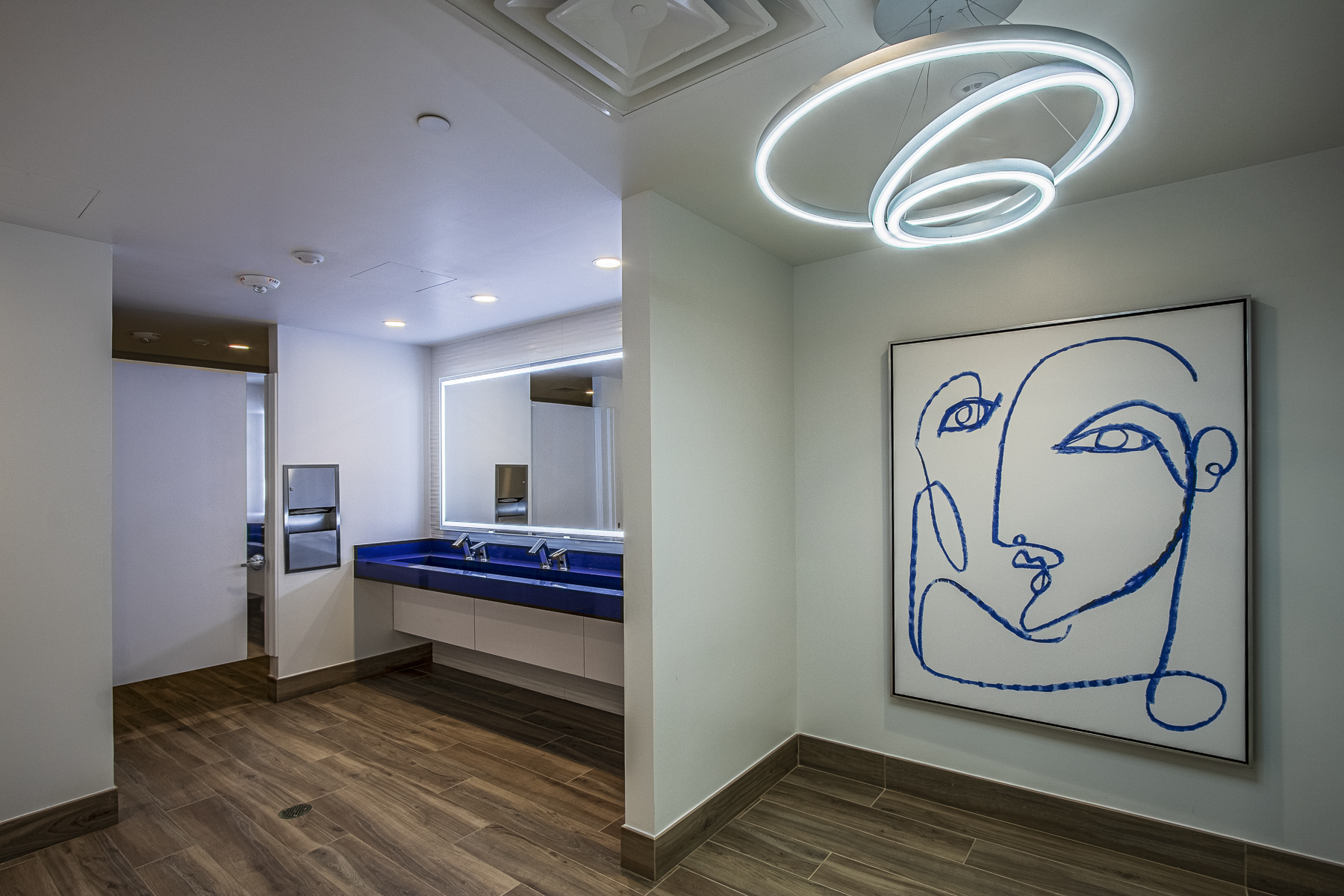 We incorporated lamps in various forms across the office and used glass instead of concrete to divide the spaces, enabling natural light to reach as many sections as possible.
It was very important to us that each employee had their own space, and enough of it to call their own, without feeling overcrowded or on-top of their co-workers.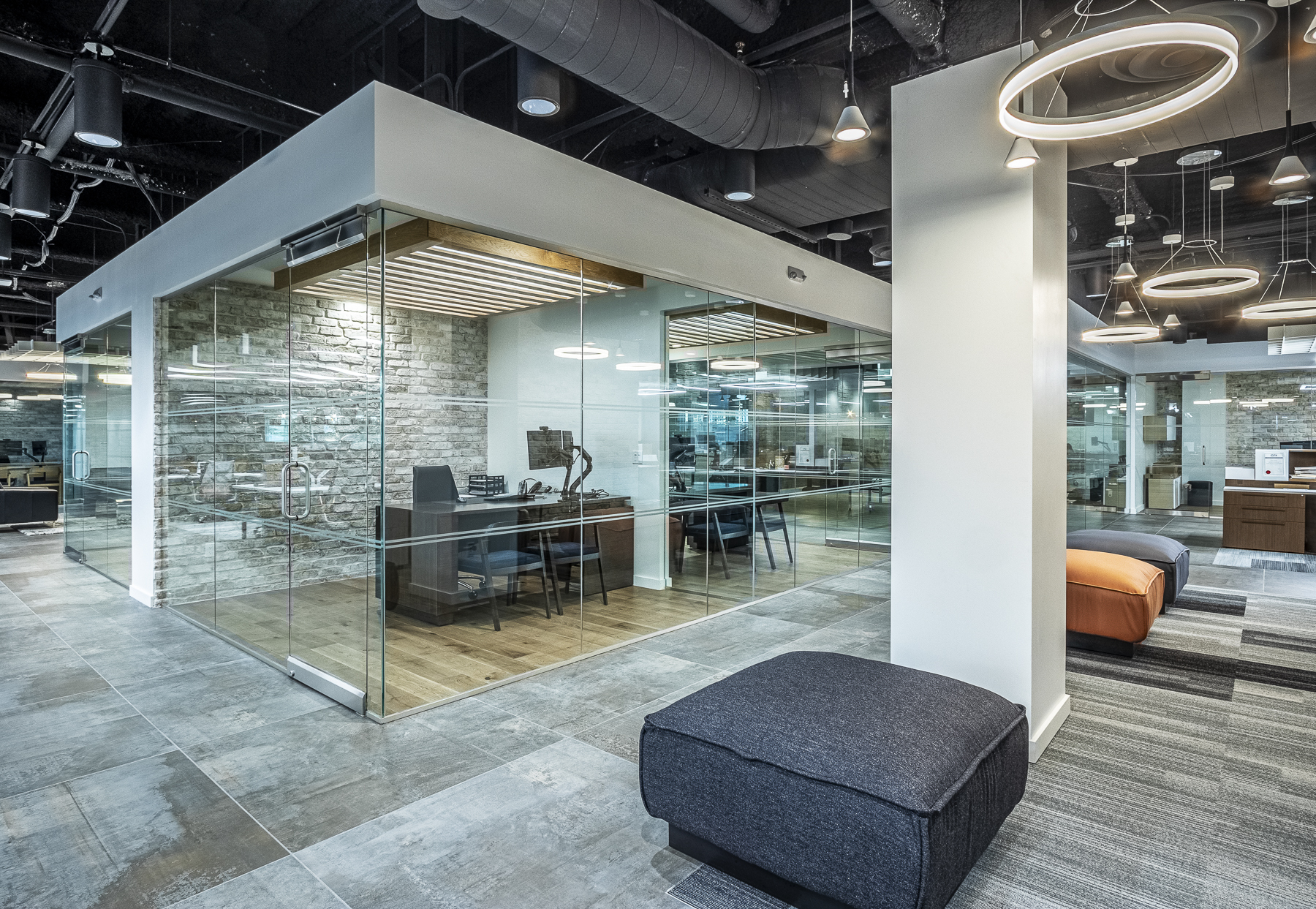 Natural design, embodying the company's identity
'As the company specialises in raw materials, we decided to use natural materials in the common areas and conference rooms to express the company's identity and proudly reference the incredible journey and achievements of this business' – Fresh lead designer of the project Tiera Lindsey.
The main materials Fresh team used were stone, wood and leather. These, in combination with the natural colour palettes and glass interiors offered a good balance between raw materials and more polished elements.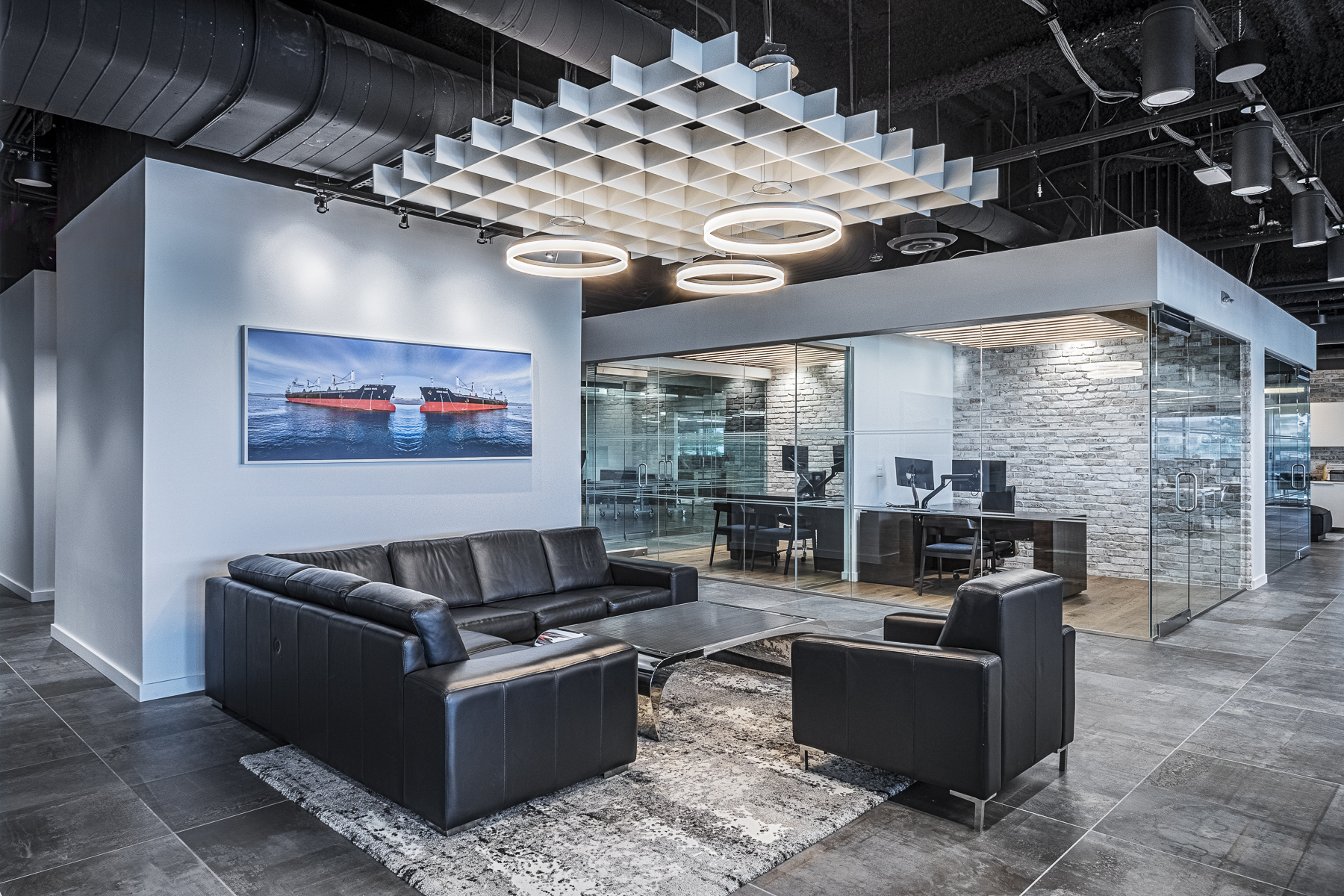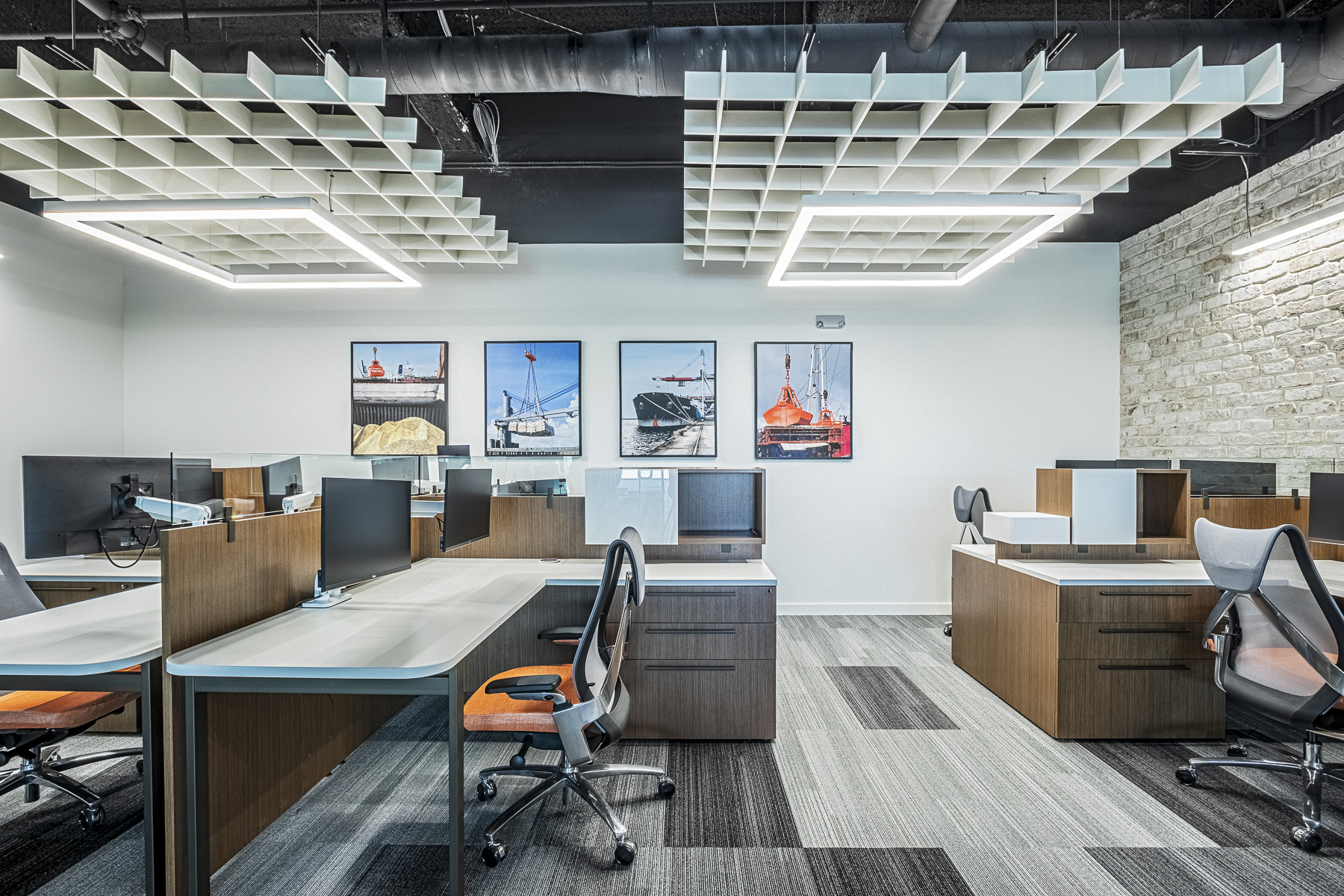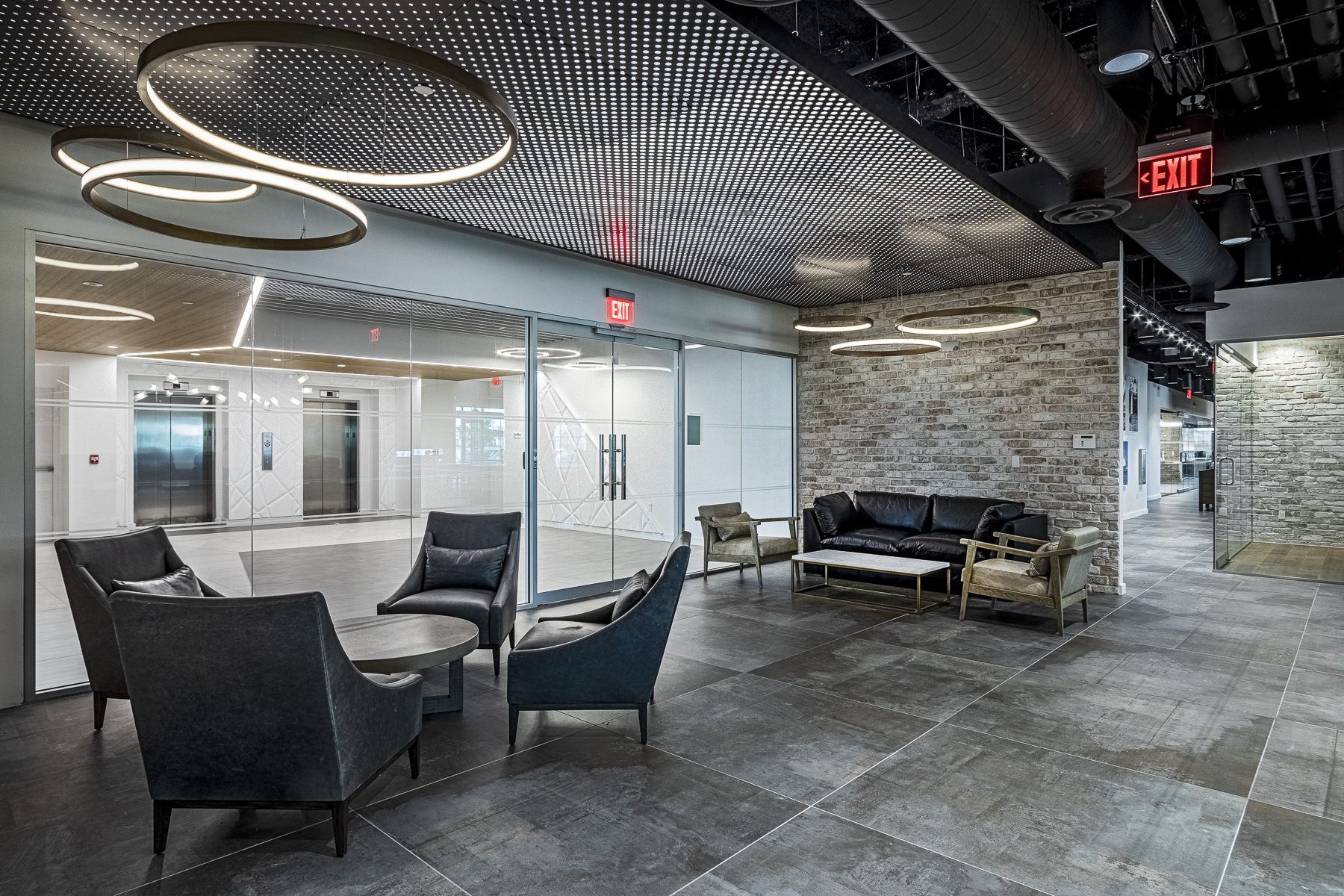 Our client was helpful, passionate, and supportive in our approach of translating the company ethos through bespoke design elements. They had no hesitations in authorizing remarkably unique and rare materials if they represented the company spirit. For example, when choosing a tabletop for the conference room, we selected a rare volcanic natural stone – such material follows a lengthy process before it can be used as it is mined, cut into slabs, topped with an enamel glaze, and fired at a very high temperature. Good quality takes time, patience, and is resilient in the face of adversity, much like IMI has successfully been able to do.
The palate for the conference room and the furniture was then chosen to match the colours of this stone.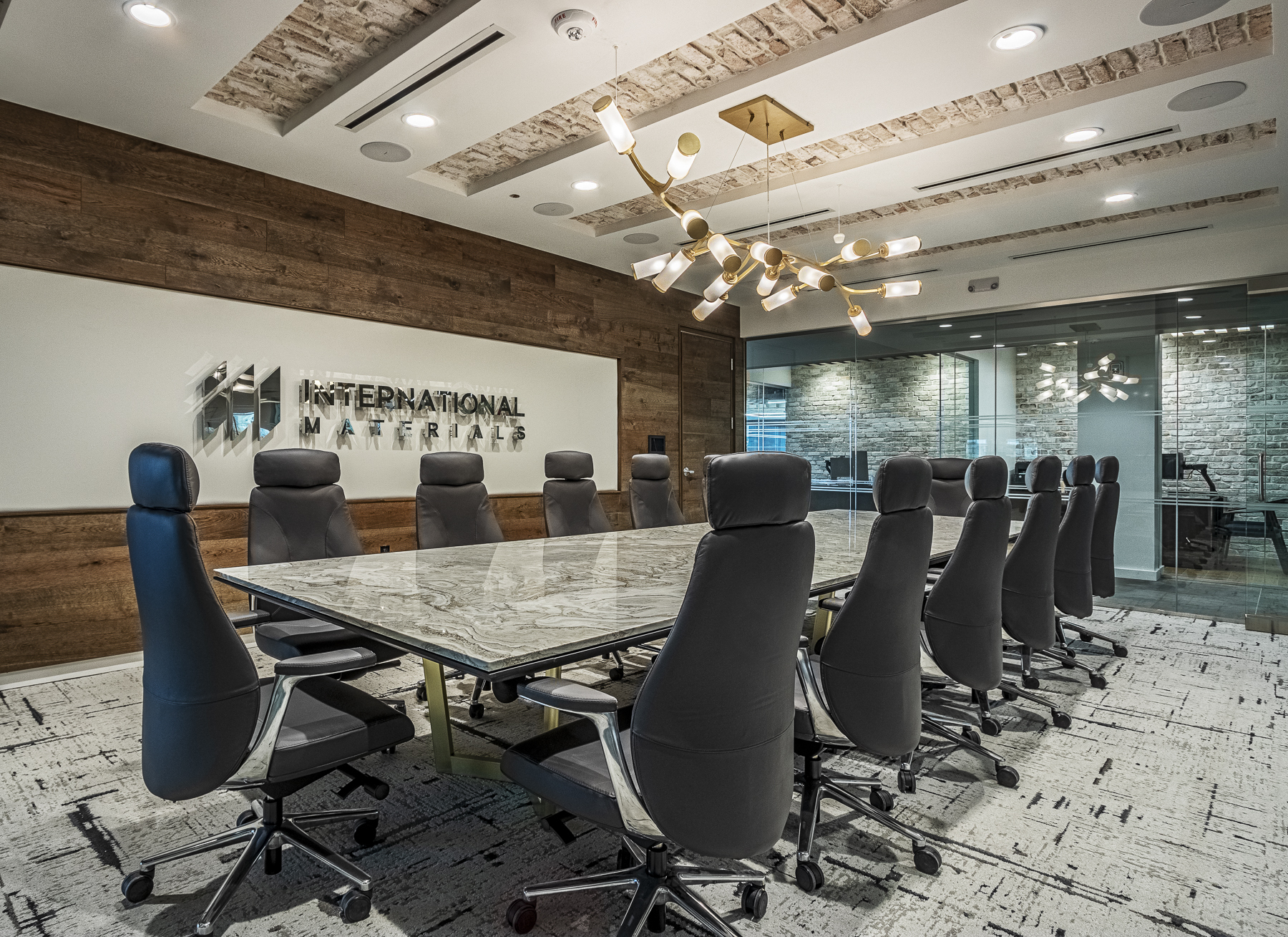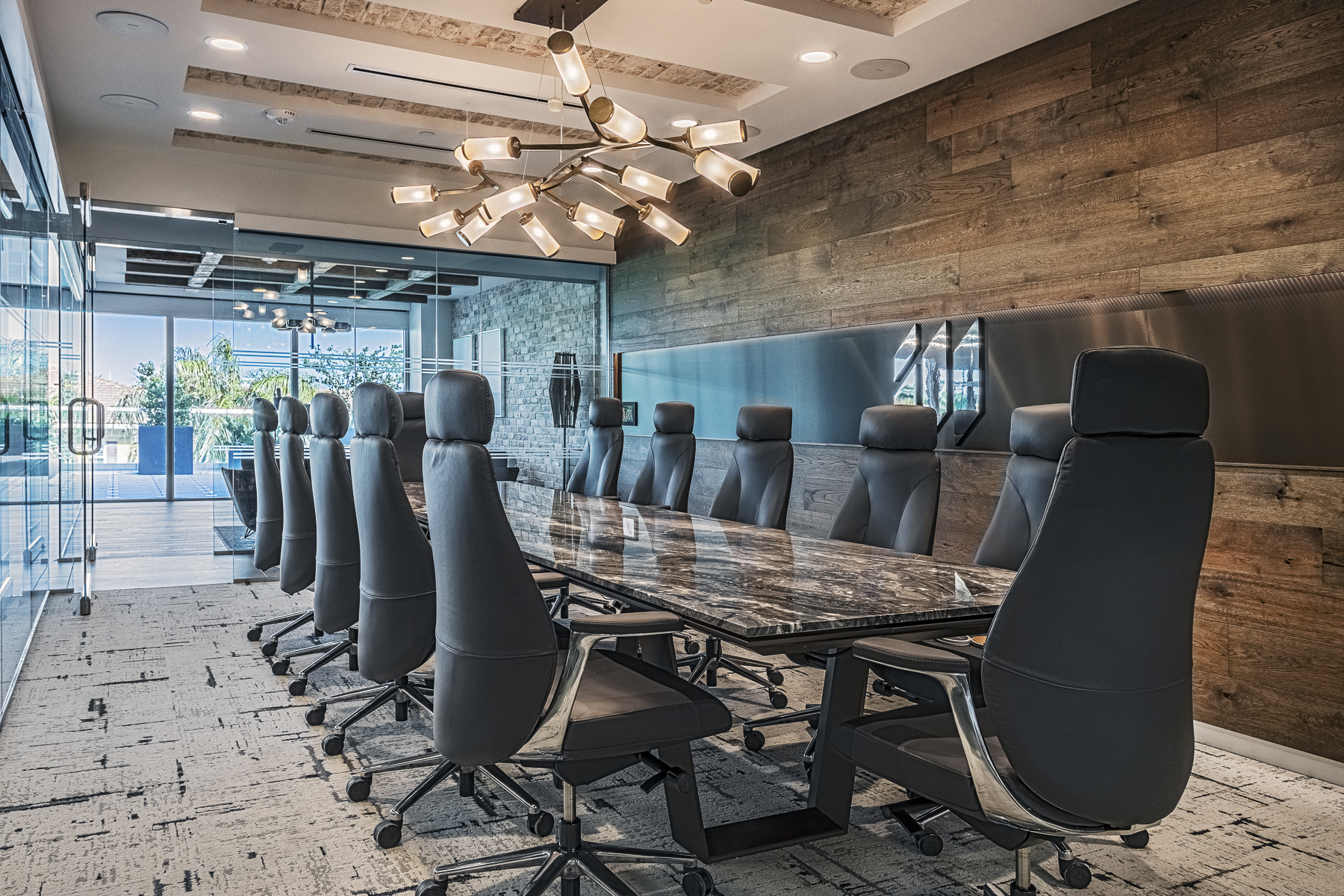 The ceiling acoustic clouds and baffles are designed in eye-catching wave formations to acknowledge the client's place within the sea freight industry.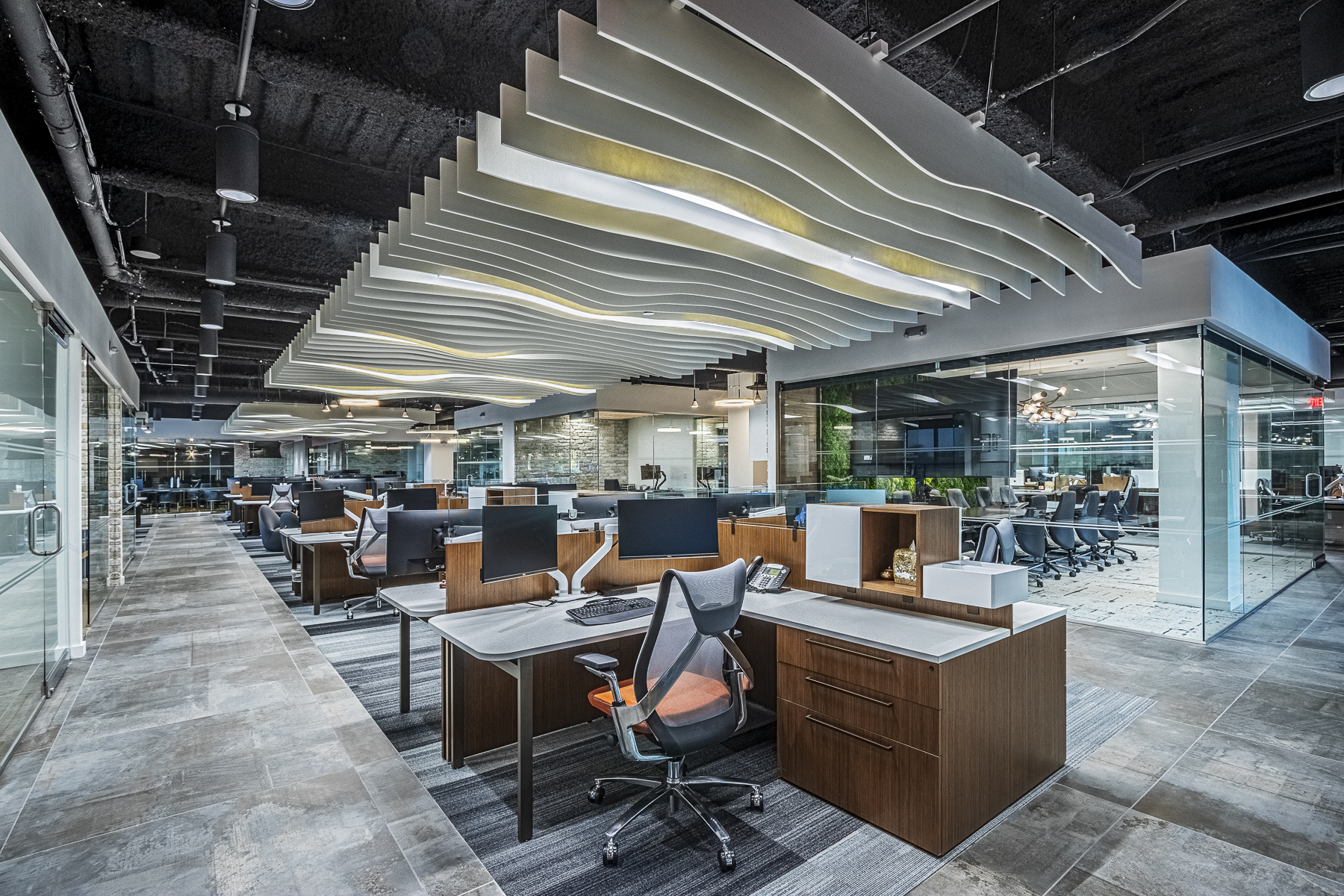 An old boat was also repurposed in elements of the office ceiling design. We liked the idea that this boat has been many places and seen many things, overcoming many storms along the way. It represents resilience, much like IMI's ability to come out on top as an industry leader, so we used the wood from this boat for the interior of the senior partner's office.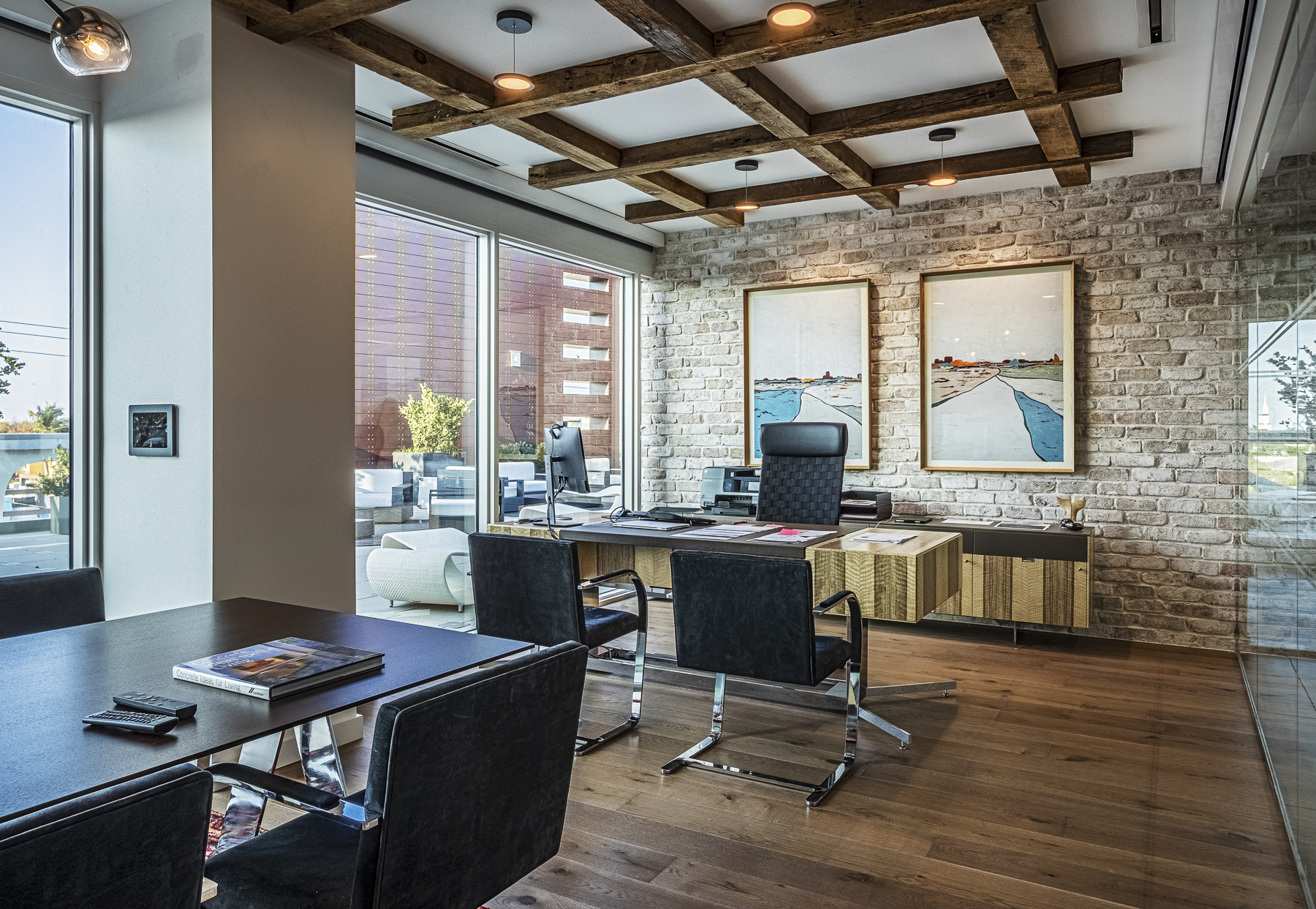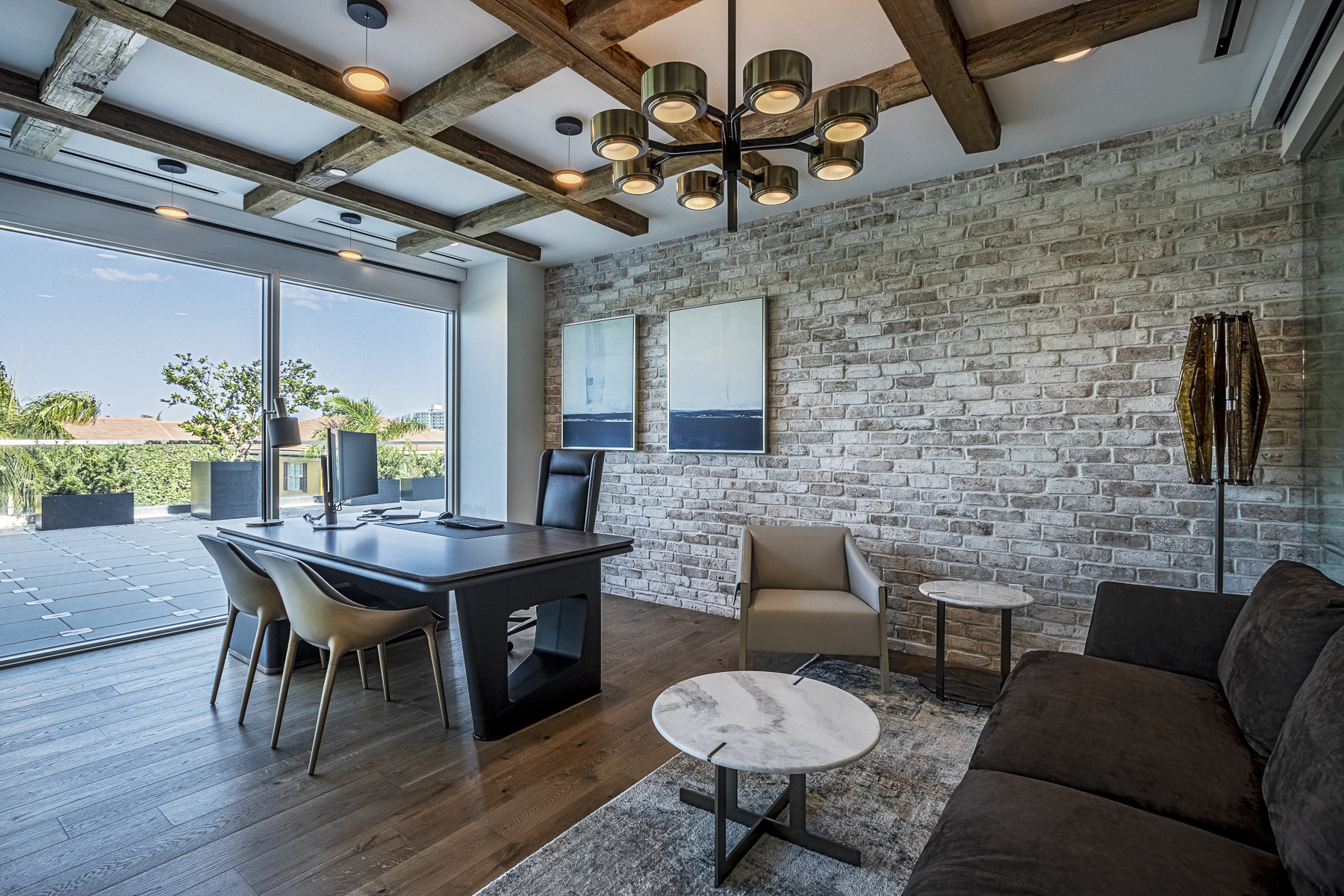 A focus on employees
Since Fresh itself has an office in Florida, we know that a decent office in this hot and sunny state must always come with one non-negotiable: a terrace. Our idea was to design one with the employees in mind – a place for them to relax and enjoy some time outdoors. Comfortable furniture and plants were added for a spot of zen and for after hours, a party area complete with sound system, DJ booth and speakers was created for live music events. The company used the terrace to celebrate their 35th anniversary.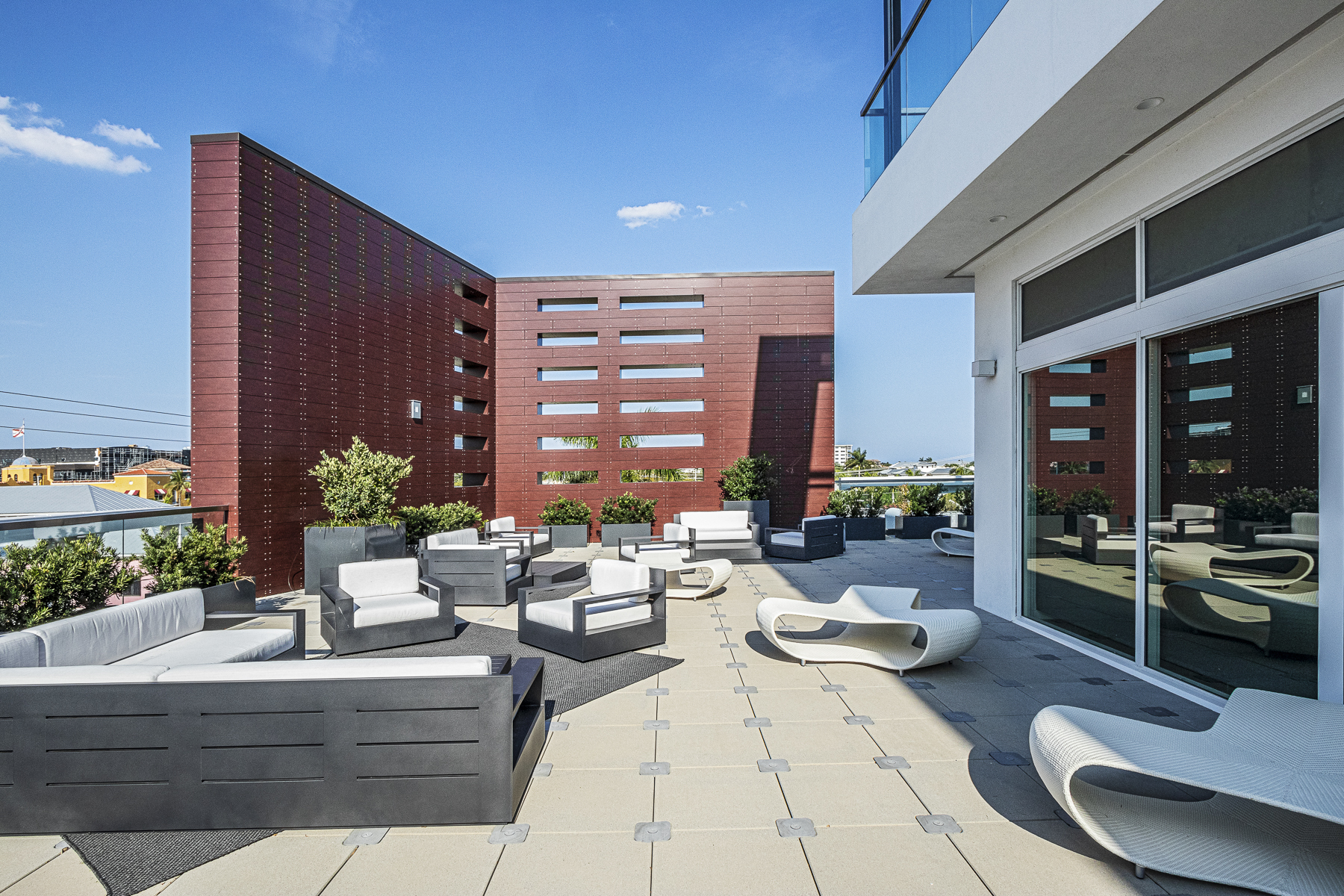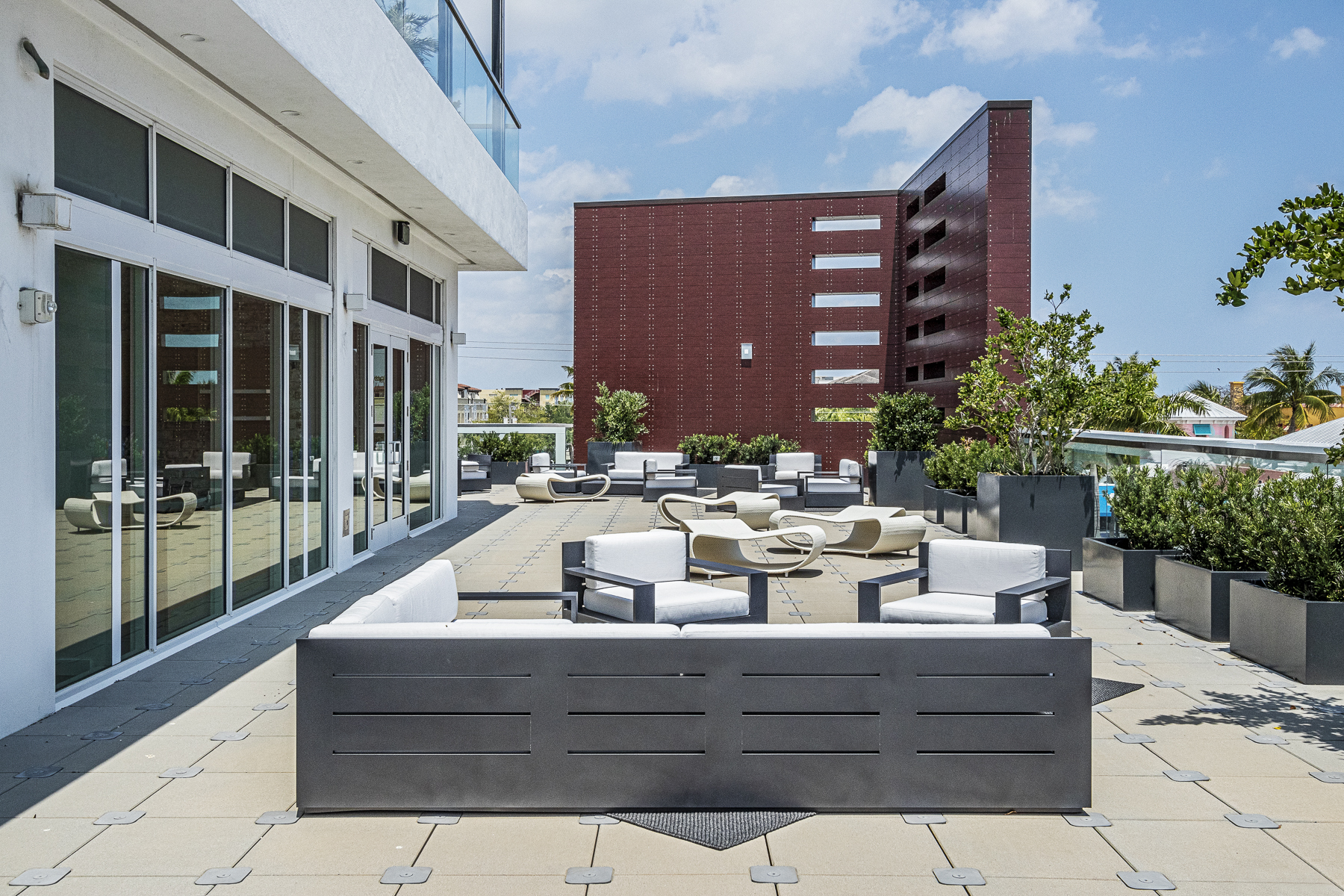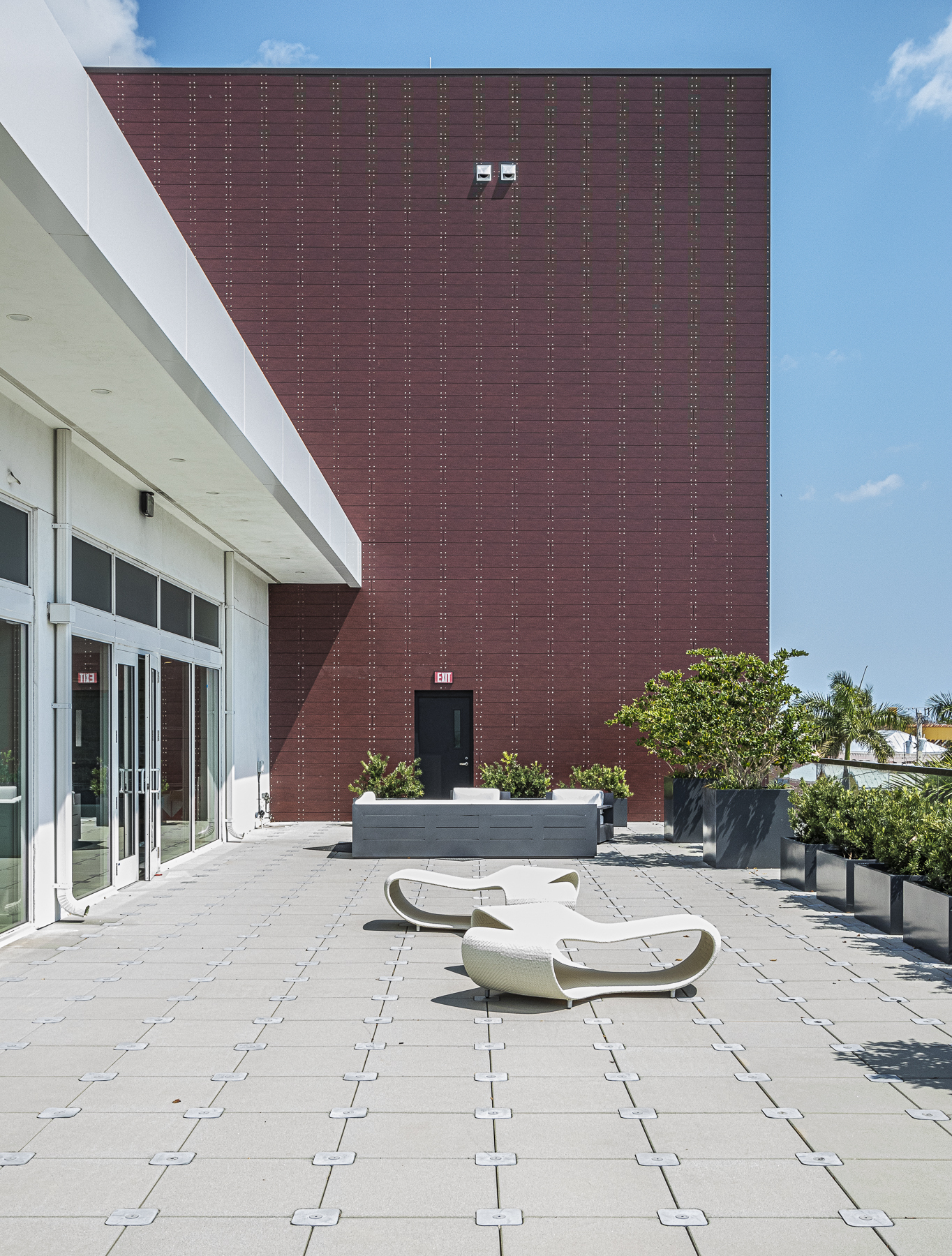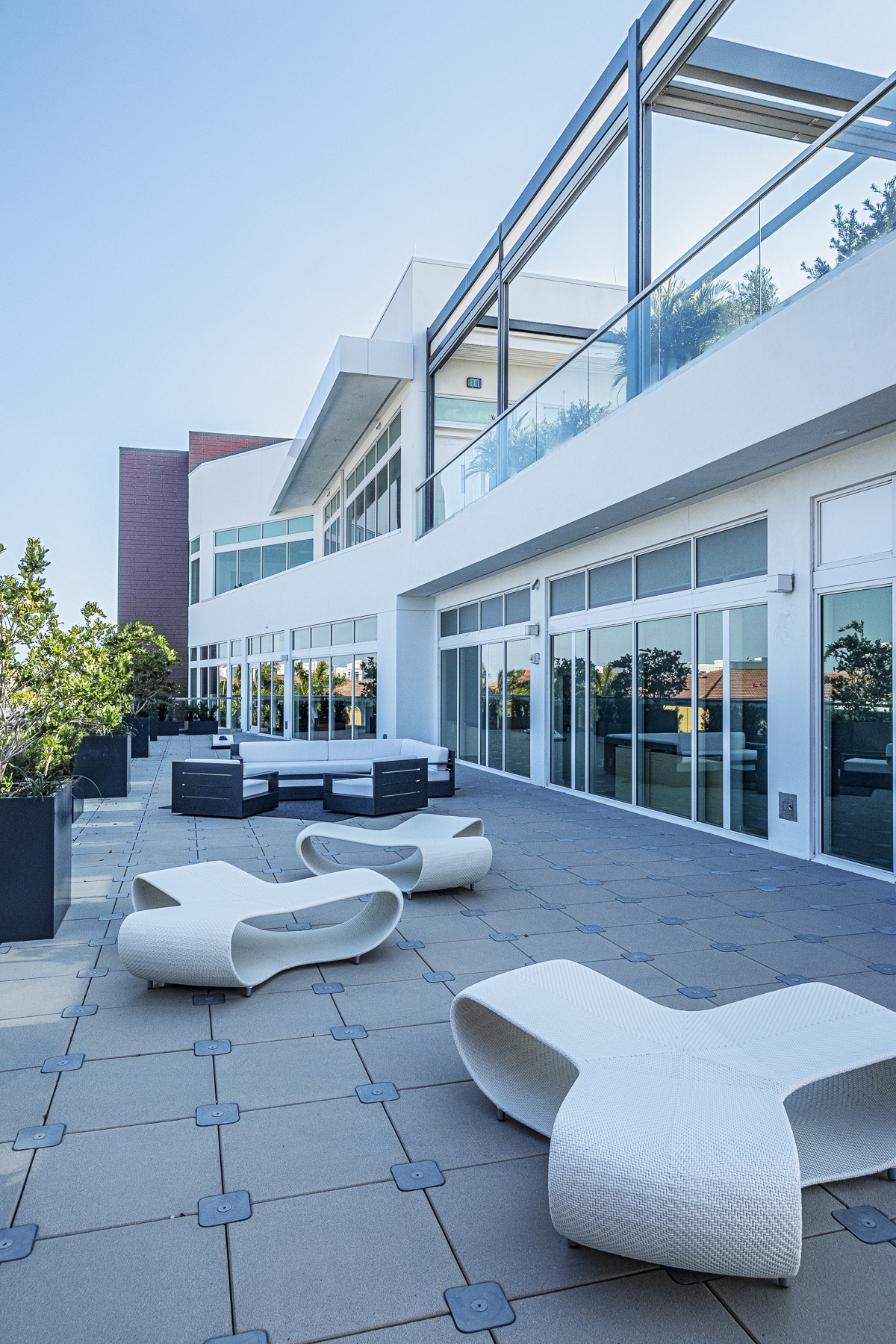 The building also has a cinema on the ground floor. With this, came a challenge for Fresh, as the office had to be designed around the powerful cinema sounds. We carried out rigorous sound engineering analyses for the building and ran late night tests to figure out the best solution. After these analyses, we selected materials to fix any infiltrating sounds – a 2.5 cm extra layer of concrete installed in the floor of the office.
"It is very important to foresee any sound disruption issues like these before carrying out design work. Imagine all the employees move into a freshly designed space, sit down at their desks ready to work only to be distracted by the booming sounds of Oppenheimer below – a time and a place, after all!" - Fresh lead designer of the project Tiera Lindsey.
The sound within the office was also incredibly important to the Fresh team throughout their designs. We installed a sound masking system into the walls and the ceilings. The way this unique technology works is it creates an unintrusive background sound that reduces noise distraction and covers up human speech, so privacy is increased, and a quiet work environment is observed. 
"From conversations with our client, we understood that taking care of staff is a key element to the company's philosophy. Employee well-being and how people feel at work is intrinsically linked to overall company performance" – Fresh lead designer of the project Tiera Lindsey.
Another task for Fresh was to create a lounge area. We were keen to create a fun, spacious and relaxing atmosphere, steering clear of anything that felt like an airport lounge. A stylish lounge bar was also created to encourage connection between colleagues. As, after all, what is cooler than having a bar at your office? A perfect space to catch-up and chill with co-workers.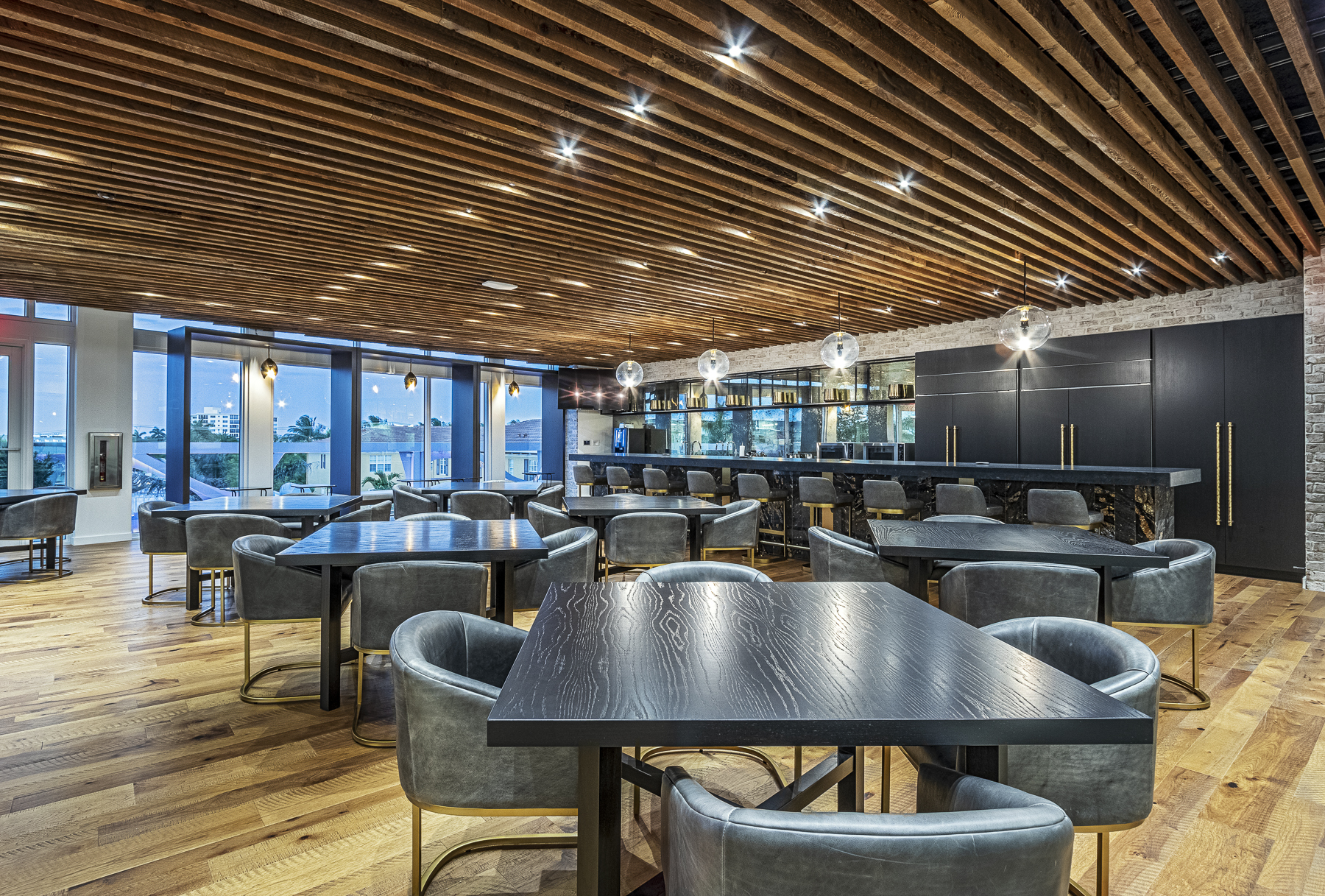 Why Fresh?
Like all our projects, Fresh took time to really understand the needs of the client before getting started on the design. IMI expressed their vision, needs, messages and ideas, and we listened, paying attention to every detail, and shaping our design accordingly. Good design, strong messaging, and a happy client.
That is always the key to a successful project here at Fresh.